Forum
Welcome to Floola's community forum. Here you'll most probably find an answer to any problem you might have with Floola.
Save you some time and before starting a new post please
search the forum
, there could already be an answer to your question!
You should also take a minute to
look at the online documentation
where you'll most topics covered.
Tikkimann
Member
Posts: 4
October 29, 00:01
Hello, all. Perhaps I'm simply missing something, but the following instructions for finding my iPod's FWID on my new computer don't work, and seem to refer to a different version of Mac software:
Mac
Connect your iPod
From the apple menu (top left of screen) select About this Mac and click More Info
(optional) Select Mini Profile in the View menubar
In the left column select Hardware and then USB
In the USB Device Tree you should see your iPod listed, select it
the FWID is the Serial Number listed in the lower box
These rules are repeated in the official Floola documents, but it doesn't seem to work for me. I can click on the apple menu, I can click on "About this Mac" and I can click "More Info" without issue, but the System Information window that opens does not have a left column, or a section called Hardware. It has tabs at the top marked Overview, Displays, Storage and Memory, respectively; while my iPod is plugged in, I can get some information about the device by clicking the "storage" tab (Mostly about how much data it stores and of what type), but nothing that looks like a FWID. (Also, I have no idea what "select mini profile in the View menubar" means.)
Does anyone know what's going on? How can I find the FWID on my mac? The place I'm sent to when I click "More Info" looks like the picture below. Please let me know if you can help me find my FWID and start using Floola with my Mac and iPod! I've used Floola before, but I think I used it on my old PC laptop, so I can't access the information the same way.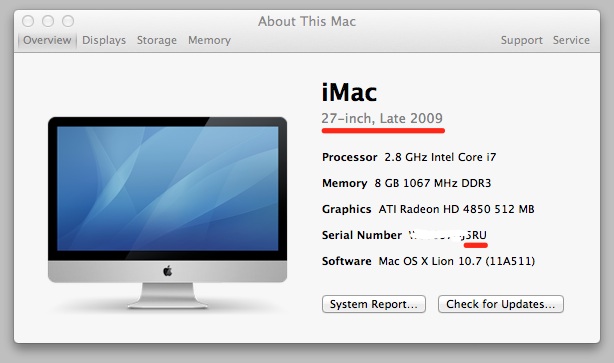 Tikkimann
Member
Posts: 4
October 29, 00:27
Of course, that's a different computer in the picture (I have the 2011 Macbook Air), but it's the same kind of window.
Tikkimann
Member
Posts: 4
October 30, 06:08
Bump. Can someone please respond? My computer doesn't have much space, so I need Floola so that I can keep my music off of my computer and play them off of my iPod. (I'm pretty sure it could do that, although I hadn't used that feature before.) I come back and re-check this thread every few hours, but no responses yet; I know this is the best place to get a reply, and I have a feeling that you may have confronted this question before, but I seem to have a legitimate concern–I've tried following the rules and it just hasn't worked. What is going wrong? I desire to know. Thanks!
Guest
Member
Posts: 1149
October 30, 21:25
Just click on "System report" and follow docs from here:
In the left column select Hardware and then USB
In the USB Device Tree you should see your iPod listed, select it
the FWID is the Serial Number listed in the lower box
Tikkimann
Member
Posts: 4
October 31, 17:25